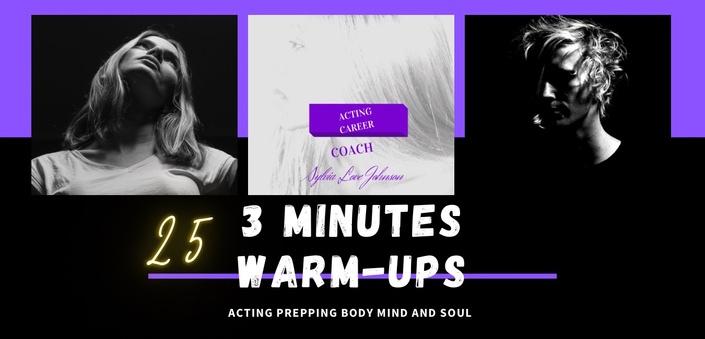 25 x Three Minutes Body Mind & Soul Creativity Enhancing Warm-Ups
25 Powerful Transformational Creative Prepping Sequences Combos: Focus, Inspiration and your way to access creative freedom in 3 Minutes
Enroll in Course
"If You've Never Tried 25 x 3 Minutes Warm-Up Body Mind and Soul Acting Prepping to Gain Clarity, Confidence and the Perfect Disposition to Perform with Outstanding Results,
Then You're in for a Marvellous Surprise…"

25 of the most effective 3 Minutes Exercise Combinations from the Acting Mastery Sequence in The Ultimate Actors Warm-Up

Most Actors try monotonous unfocused Prepping Sequences that lack a Clear Intention to go "on stage" and perform to the best of their abilities.
But those who succeed know the transformative power of Focus, Concentration and Intention.
Dear Star,
If you're like most Actors, then you're probably achieving some results from doing a good prepping warm-up every time you go on to performing.
That's definitely what you should be doing; it helps you to
Feel more in control of your tools: Your Body and your Voice.

It creates the being "warm" feeling, so you have a head start.

A physical routine hopefully makes you feel fit and strong.

A Character prepping Sequence helps you be "in-character" from the moment you step onto your performance.

But there's one giant, looming problem… Familiarity, monotony and sheer lack of Definitive Intention.
It doesn't matter how excellent your prepping routine is; it eventually becomes stagnant, stale, repetitive, and it accounts for very little or no transformational prepping activity day in and day out.
You know what I'm talking, about right?
When you go through a mechanical warm-up routine, and you feel virtually "nothing", You've gone through it mindlessly to get it done and carry on. Your body is used to "automatically" fulfilling the sequence, yet it no longer produces the desired results. You might feel "good" because you have done ✔️ what you know you need to do, and you can tick that box. Yet it has done nothing to improve your state of being, your readiness, confidence and performance, let alone help your Character grow, develop and be "in-the-moment here and now.
Resulting in
Waste of time and energy.

Sure cause of disappointment.

The stagnation of your talent development and growth.

When your acting prepping isn't inspiring you and empowering you to create your utmost best performance right now, intuitively and with ease, while growing in your expertise…
This lack of creative freedom can be enough reason to make you want to quit. The lack of results or fulfilment in your Acting soon stops you from wanting to continue to improve limitlessly as you cam, because you don't see that as a possibility any more.
But hold up – it doesn't have to be that way…
Instead of doing a monotonous, repetitive, unfocused and lacking clear Intention prepping sequences, and exercises imagine if you were able to do a highly Transformational, Laser Focused, Intentional and Empowering sequence any time you wished in just 3 minutes.
Would that interest you?
Here's your answer:
25 different, effective and concise Body, Mind and Soul Acting Prepping Sequence combinations of 3 Minutes. Focus, Inspiration and your Way to Access Creative Freedom.
Here Are 4 Good Reasons Why 25 x 3 Minutes Warm-up Body, Mind and Soul is The Best Way to continue to maximise your potential, develop your talent, improve your performance and create anew every time you are on.
Reason 1: This is the fastest way to being fully prepped, in-the-moment and in-character.
Reason 2: This is the easiest way to become empowered, gain 100% confidence, focus and concentration.
Reason 3: Because it is designed to produce specific results within a short time, this Strategy lets you focus on exactly what you need to improve and develops your talents significantly "here and now" body, mind and soul leaving no space for stagnation, monotony or any other creative energy blocker. The "Now" moment is a magical place!
Reason 4: The Laser-focused way to fully Concentrate and Create on Demand.
You can see many benefits to using my 3-minute body mind and soul method warm-up to maximise creativity and growth as an Actor. And that's why you're going to want to get hold of these 25 acting prepping sequences.
Introducing 3 Minutes Warm-Up Body Mind and Soul Acting Prepping.
The surefire way to empower your performance, gain confidence, achieve organic growth in your acting skills and abilities. Create fresh and anew every time you are on stage without feeling that you need to "get into it" first or feeling that you sound fake or unnatural, not in -the -moment or lacking concentration.
This Tool shows you how to stop feeling lost in the performance and out of time/place start thoroughly enjoying your work and growing every time you practice.
Here's what you will get when you enrol now:
You'll find out several simple tricks for consistently delivering outstanding performances, no more feeling "I could have done better".

You'll discover the quick and easy way to feel in the moment even before you start performing.

You'll learn the one thing you should NEVER do if you want to always create anew no matter how many times you deliver the same monologue.

You'll get my list of 25 different sequences that makes getting ready to perform at your utmost best faster and easier than ever with great results every single time.



You Don't have a lot of time, and you want to experience a fulfilling and fast transformation every time you are "on stage"?
No problem – you'll find out how to raise your Acting game 10x with just 3 minutes of prepping.
You'll get my personal body, mind and soul empowering formula for acting success x 25

You'll get a complete set of sequences that makes it easier than ever to achieve focus, clarity, concentration and creative freedom. – this is the best way to turn information and knowledge into actual brilliant acting.

You'll find out which one widespread practice in acting you've been doing all this time that sabotages your Acting Mastery and what you need to do instead to start Mastering the Craft.

You'll discover a surprising way to predict how great will your performance go. This is so easy; you are going to laugh. You'll wish you had known about this years ago!

You'll find out the top mistake most Actors/Actresses make when they're trying to recreate a successful performance they did in the past and how to avoid this mistake.

Are you short on time when it comes to honing the Craft with daily practice? Then you're going to love this methodology; you can keep on your toes with acting disposition with as little as three minutes per day.
All this and much, much more –
Your Instructor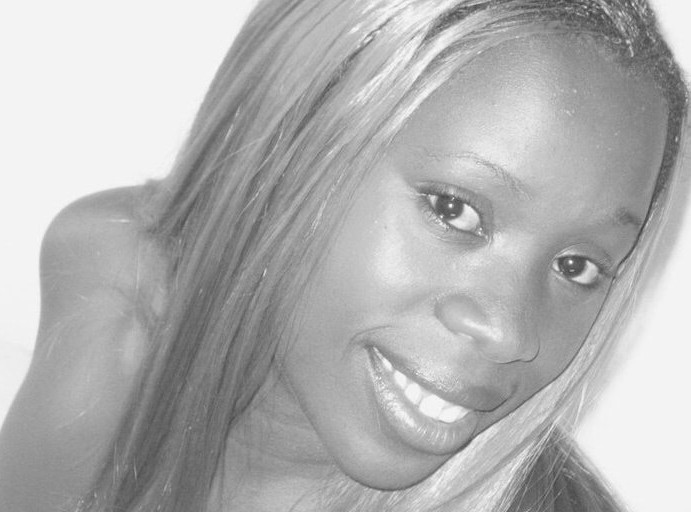 As an Actress Actor's Coach and an Award-winning Film Producer I have a great passion for helping actors achieve their dreams. My acting courses and 1-2-1 coaching sessions are designed to help professional working actors at any stage in their careers to achieve higher levels of mastery as well as career guidance and support.
I was born in Spain, Valencia. I was raised partially in the Canary Islands, Las Palmas and partially in London, England, I am a Spanish-British, from Reading UK. I have worked in theatre, cinema and TV in Spain and in England. My multicultural background has taught me the importance of being an individual, never imitate, try to copy or compare yourself with other talents. There is absolutely no competition in this industry, believe it or not, because no one can compete with your uniqueness. You are your greatest asset.
We have a false belief that one has to be "lucky" to make it as an Actor. I'm currently coaching some of the finest and brightest up and coming to UK Film and TV talent. Their success has nothing to do with luck. It's all about correct guidance and craft mastery. The empowerment that I'm seeing is game-changing. As someone who has been in this industry for 25 years, I'm happy to be taking an active part in helping others advance.
My students go deep into each character/monologue they dive in Method Acting techniques. They come out of the courses/coaching sessions utterly transformed with a level of versatility, concentration and characterisation, capeabilities that are truly powerful. Their confidence, skyrockets so does their ability and their disposition to get exactly the acting work they want.
Over the last 15 years as an Actor's Coach, I have learnt that most actors approach their career path in the wrong way. Usually following the masses and doing what everyone else is doing, thus getting what everyone else is getting: 'Very little'.
In this profession, it is imperative to know your 'why' why are you doing this? You need to learn about your mission, unveil your purpose and go after your innermost desires with a laser focussed attitude that gives you the confidence you need to become unstoppable.

I deeply believe you can achieve whatever you want. If what you want is to become as masterful Method Actor and to take full control of your acting career you are in the right place. Actors need much more support and the tools to build up their confidence and their career. This is why I have created several courses and advanced acting training programs.
Frequently Asked Questions
When does the course start and finish?
The course starts now and never ends! It is a completely self-paced online course - you decide when you start and when you finish.
How long do I have access to the course?
How does lifetime access sound? After enrolling, you have unlimited access to this course for as long as you like - across any and all devices you own.
What if I am unhappy with the course?
We would never want you to be unhappy! If you are unsatisfied with your purchase, contact us in the first 30 days and we will give you a full refund.
25 x 3 Minutes Warm-ups Acting prepping Body, Mind and Sou gives you everything you need to set you on your path towards mastering the Craft in an effective and compounding way.
Once you start applying this method, I'm confident you'll never go back to a monotonous and inefficient routine. That's why I'm offering you a 30-day unconditional guarantee.


If you disagree that this is the best way to achieve the perfect state for Acting creation fast in a laser-focused manner – or if you're unsatisfied for ANY reason – just email me for a prompt and cheerful refund. This takes all the risk off of you and puts it squarely on my shoulders, so click here to order now…